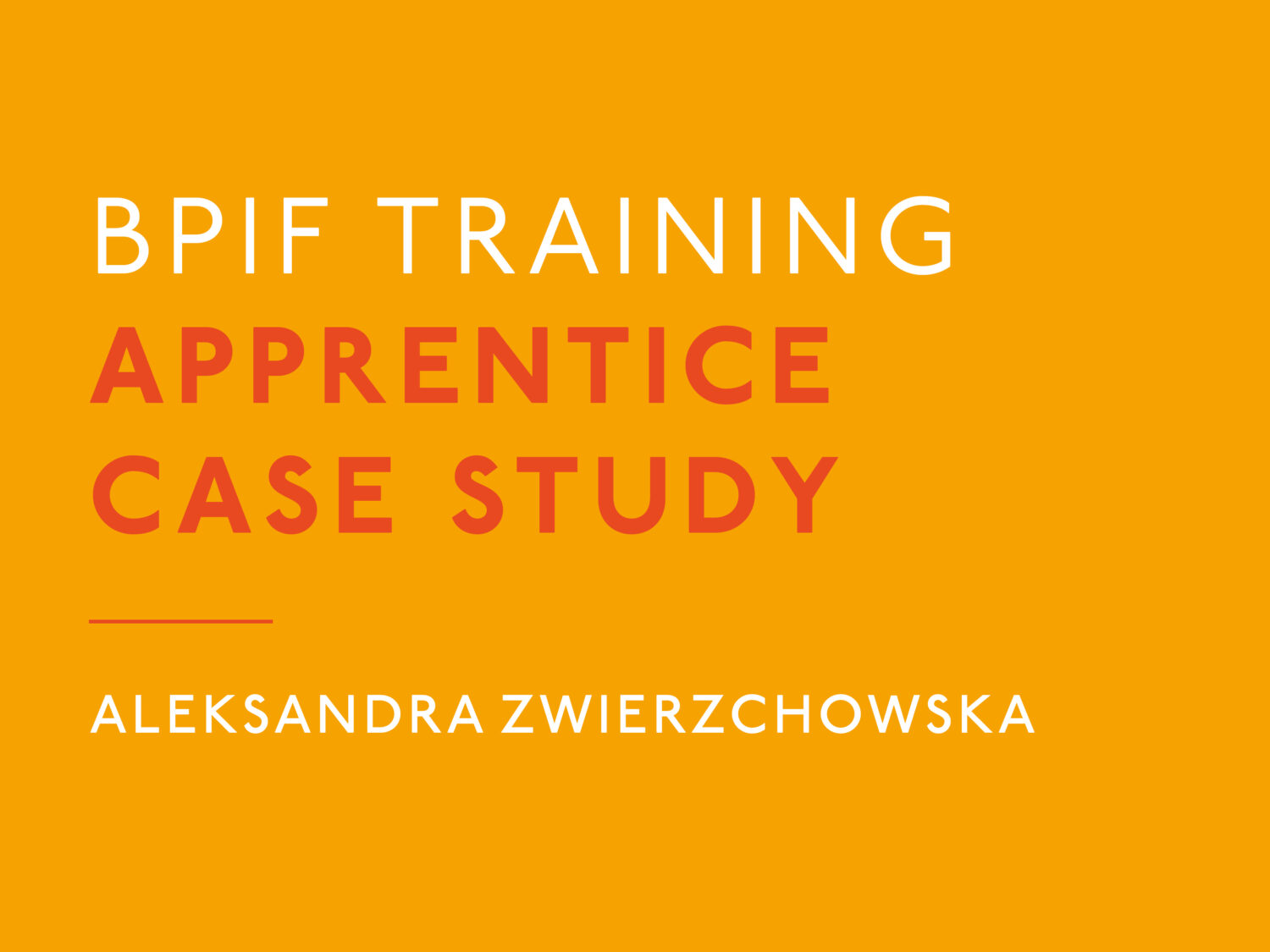 Aleksandra Zwierzchowska – GPI Bardon
Name: Aleksandra Zwierzchowska
Apprenticeship programme: Lean 2 (quality control)
Employer: GPI – Bardon
Training Coordinator: Steve Power
---
What stage are you at in your apprenticeship journey?
I'm close to completing my apprenticeship journey but I still have some couple of things to finish. I hope to complete my work by the end of January 2023.
What made you decide to undertake an apprenticeship? How did you come to work in print?
When my youngest child started school, me and my family made the decision that I would start to work fulltime. As my husband already worked in GPI Bardon & the continental shifts suited my family lifestyle, he got me an application and I got the job. From July 2015 I worked as an assistant on a Pick&Place machine in the Finishing/Window Patch department. Then, after 1.5 years I was told by one of the Quality Inspectors that he was leaving. I was always interested in developing my skills and knowledge at work, so I asked if he could giveme some advice for the future. I was very surprised when he told me that I should apply for his position. As I didn't have anything to lose, I decided to apply, and I'm very proud that I was selected. Regarding my decision to undertake an apprenticeship, it was Steve Power, my tutor who helped me make my first step in this direction. Of course, now it's nearly the end of my apprenticeship journey, I can say it was one of my best decisions I have ever made.
Tell us about some of the key knowledge, skills, and behaviours you have developed since starting your apprenticeship
I would definitely like to point out first the fact that I have more confidence in myself at work. During my apprenticeship industry standards and rules were made clearer to me. I gained confidence when asking questions which I worried may be " stupid", and I learned to ask for help when I need it. I understand that the company I work for is continuously improving and changing for the better, and I try to help find the best solutions when changes happen. I also developed my knowledge and skills within my company computer system. I'm confident in finding procedures, risk assessments, and COSHH information without needing help, even though this is outside of my job role.
Tell us about a typical day at work for you
I work in continental shifts, which means my week starts on Wednesday, and I finish the following Wednesday with day off on Sunday in the middle. After 6 working days, I have 7 days off from work. I start at 5:50am and finish at 6pm. I usually arrive 5-10 minutes before my shift so that I can get a handover from the people on the night shift. I then collect production samples from orders which have been produced over the night. When I get to my office, first I switchon all the equipment I need. I check my emails to see if I need to take any immediate action – there could be a request from a supplier, for example. Then I start logging production samples into our system. If any problems have occurred on received samples, I might take further actions like sending emails, quarantining stock, contacting team leaders etc. Next, I prepare information which needs to be discussed in the morning meeting at 9am. If I have any open supplierclaims I need to ensure the information is up to date, and chase suppliers for responses if necessary. My days vary, but usually throughout the day I answer calls and co-operate with all our departments, helping to solve problems. Within my 6 working days I need to complete all my inspections and checks. I'm responsible for reviewing procedures and I take the necessary actions if I notice any non-conformance. I also help to train our two team members who are not yet qualified. 
What's the most enjoyable part of your apprenticeship?
Developing my knowledge, sharing ideas with my colleagues, discovering new solutions, and being moreconfident when contacting managers.
What do you see yourself doing on achievement of your apprenticeship?
At this point I don't have plans, but I have definitely progressed in my job role. I hope to be promoted. I'mhappy within the company I'm working for, and I can see myself there for years.
Would you recommend apprenticeships in the print industry to others, and what would you tell them about the industry?
Yes. The best thing about the industry is the fact that everyday I'm learning something new. It is not easy, but achievable if you are interested enough.
What do you think are the benefits of undertaking an apprenticeship?
Wider knowledge and a different point of understanding. I can analyse situations and use my knowledge to make the right decisions. The apprenticeship also helped me to develop my language skills.