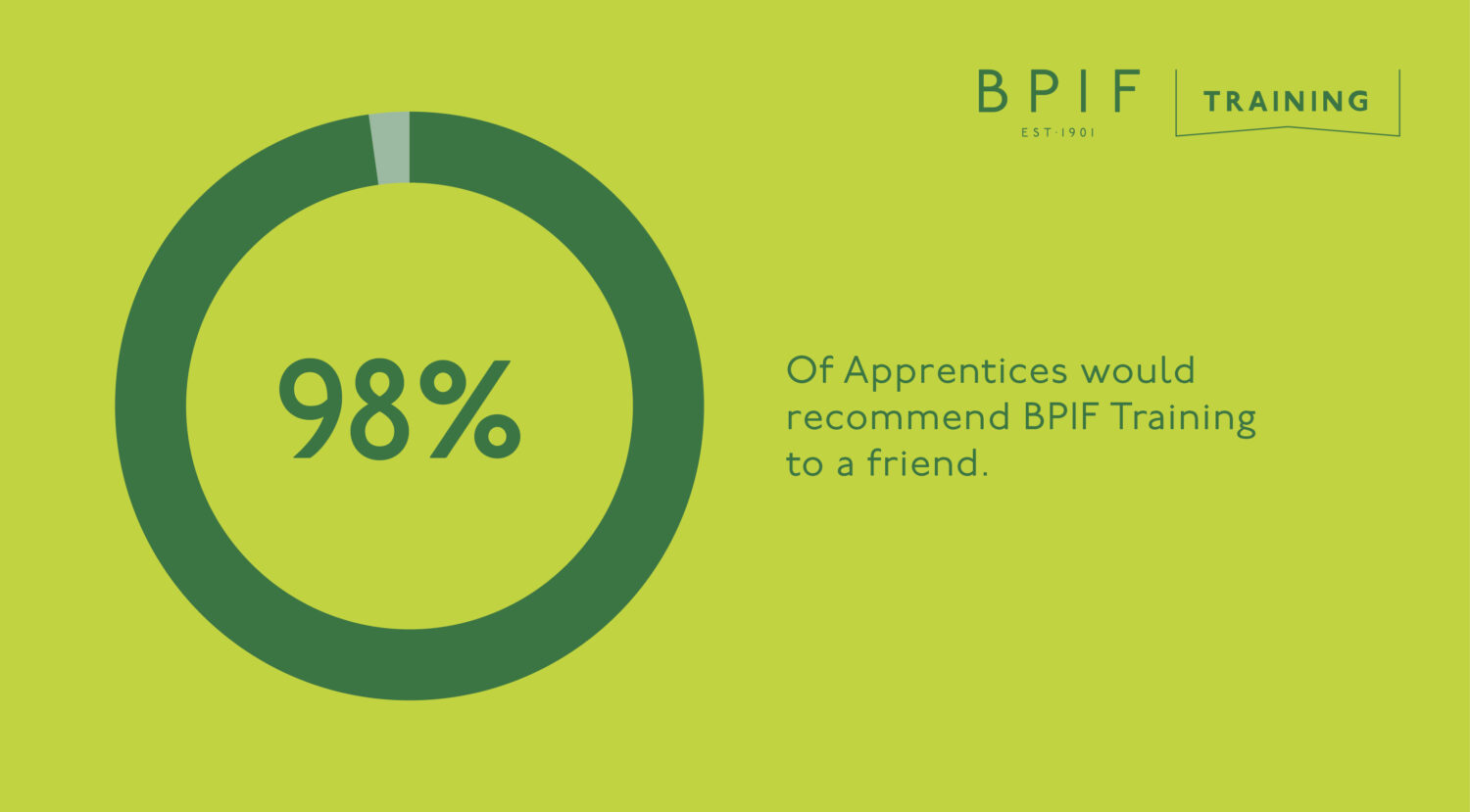 Apprentice Survey – What do our apprentices say?
We value all feedback here at BPIF Training and a huge thank you goes to all of our apprentices who took the time to complete our annual apprentice learning survey. All feedback received contributes to reinforcing what we do well and putting actions in place to further improve our apprenticeship delivery.
Below you will find the survey results, along with feedback received from our apprentices. If you are an apprentice who would like to provide further feedback, or did not get chance to contribute, please contact us
Apprentice Survey Results
89% of Apprentices felt that their course/programme met their needs.
96% of Apprentices felt that they received the support they needed.
90% of Apprentices felt that lessons and training sessions were delivered in a way that helped them build on existing knowledge.
73% of Apprentices felt that their learning was not impacted by the transition to online learning.
94% of Apprentices felt that they received feedback that helped them to improve.
76% of Apprentices felt that their course/programme prepared them for what they wanted to do next.
98% of Apprentices would recommend BPIF Training to a friend
Impact of the Apprenticeship 
What does BPIF Training do well?
Applied the course to our industry (Printing). Having training coordinators who had worked in the industry helped make the course relevant to our day-to-day job. Clear direction and market leading knowledge. The tasks I am set are relevant and progress my knowledge of the print industry.
Delivers the training material in an easy-to-understand manner, good interaction exercises, positive constructive feedback on assignments
Explain the course needs and outcomes so I know what I need to do to do well.
Flexible; feel that the tutors are supportive; learning with tutors and fellow students is made enjoyable and positive; it's very applicable to real life work; helps one map out career path; helps one be reflective and more self-aware.
Great communication & issued projects, understanding and polite, willing to discuss all matters, not too much pressure in a busy environment. Gives very good support. Very clear about what work needs to be done. Good motivation given. Especially through the pandemic
Had a positive impact on my role as a department manager helping address areas where I have identified weaknesses
It does well at providing me with one-to-one tutoring and also offering the material to help me understand my learning needs. It provides lots of resources to use to improve oneself in a large variety of ways
I have gained a lot of knowledge and skills personally from my tutor, who has gone above and beyond at times in helping me, offering advice and his expertise and experiences.
The topics covered in my course give a good overview of the role of Manager, giving insights into some areas that are potentially out of your area of expertise and wouldn't normally delve into in your normal day to day work, but gaining this understanding helps you become more rounded and a better decision maker.
Since the introduction of teams/meetings I believe it has helped my working day as takes up less time whilst still getting information/help needed.
The feedback given back to me after handing in a piece of work is constructive and clear which allows me to improve on my work.
The quality of the presentations and the sharing of information is excellent. The move to online learning has been made as easy as it could have been with the BPIF. The feedback loops on coursework is a very practical way of learning and suits me well.
What could BPIF Training do to improve?
Maybe give more opportunity of health and safety courses related with in the Print Sector
Personally, I would like to do all theory work first before starting work-based projects. But I thank all the tutors and enormous amount of work they do. Thank you.
Lower the expectation of the "off the job training"
The networking with the immediate cohort is great but there is not a great deal of networking outside of that. I think the BPIF could be more proactive in arranging networking events or connecting companies together that may work well. I appreciate the pandemic has stifled some of these networking opportunities.
Over the coming weeks we will be looking to address all of your feedback and ensure that we continue to support you to successfully achieve your apprenticeship. If you do have any further comments, feedback or suggestions please do speak to your training coordinator or  get in touch with us at [email protected]
THANK YOU FOR YOUR ONGOING SUPPORT