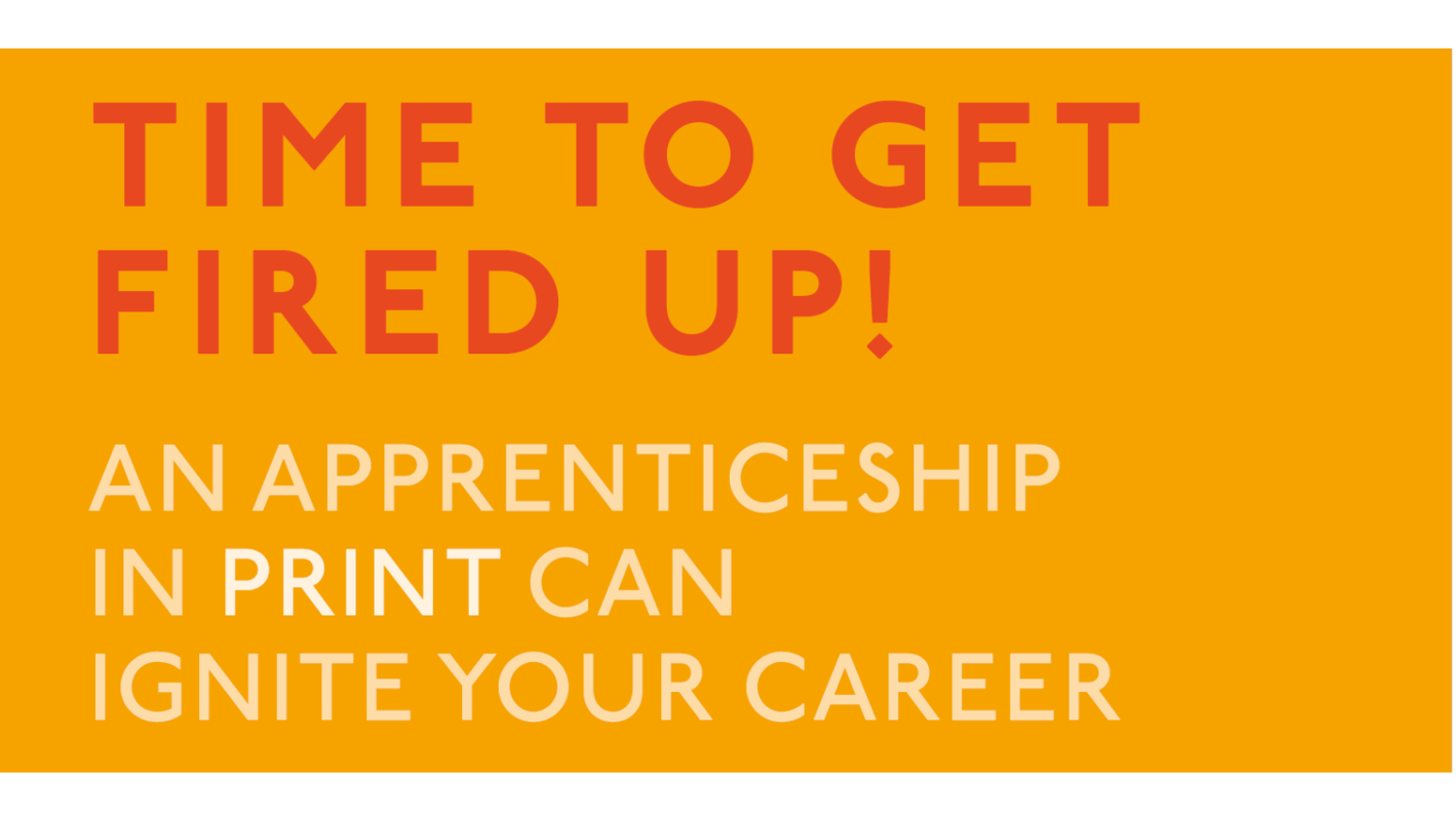 CAREERS IN PRINT
The UK printing industry is the world's 5th largest producer of printed products. You are surrounded by print every day. Consider what you may have seen since you woke up this morning, from cereal packets at breakfast to the printed T-shirt you might be wearing. Posters, phone cases, books, magazines, so much of what you interact with is printed!
Within the printing industry there are many pathways you can take whether you are interested in hands on manufacturing, design, technology, data, customer service or business management.
An apprenticeship in print offers a genuine job, with training, meaning you can earn while you learn and gain a nationally recognised qualification. It will combine hands-on work with classroom learning which will provide you with the knowledge and workplace experience to ensure that you are ready for the end point assessment.
Whether it is being responsible for the printing press or a project management role the career possibilities are there.
DIGITAL PRINTER
Digital Printing produces a whole variety of products such as vehicle wraps, point of sale products, photo books and birthday cards. Many of these products require
personalisation which is made possible by the digital printer's ability to handle variable data to allow each image printed to be unique.
PRINT FINISHER
Once the materials have been printed they need converting into the final product. There is a wide range of Print Finishing operations. You could be operating a
computerised guillotine cutting work to size, a folding machine folding paper into sections or creating hard back books. Some of the processes are very complex, for example production lines that take the printed sheets and covers and produce a complete book. Typically Print Finishers will be proficient in operating a range of machinery. A print finisher will be responsible for managing and controlling the quality of their work, productivity and may well manage a small team.
CARTON MANUFACTURE
Brands need beautiful packaging to hold their products. Working in Carton Manufacture, you ensure this packaging is consistent, safe and most importantly catches the customer's eye. You will operate cutting and creasing machinery to cut out the cartons from flat printed sheets or from continuous reels. Other operations include carton enhancing – this could be foil blocking or embossing and gluing the cartons. Somebody working in carton manufacturing will be responsible for managing and controlling the quality of their work, productivity and may well manage a small team.
CUSTOMER SERVICE
Good at communicating? This apprenticeship is designed for people who would like to work in Customer Service and all skills learned are transferable across sectors. You could be a Customer Service Assistant, Customer Service Agent, CustomerService Relationship Manager or Office Supervisor. You will develop skills that demonstrate that you can provide best practice in customer service as well as an organisations procedures and objectives.
DIGITAL MARKETING
Are you interested in the use of social media in business? For this apprenticeship you will use online and social media platforms to design, build and implement
campaigns and drive customer sales. Typical job roles would include Digital Marketing Assistant, Digital Marketing Executive, Digital Marketing Co-ordinator,
Campaign Executive, Social Media Executive, Content Co-ordinator, Email Marketing Assistant, SEO Executive, Analytics Executive and Digital Marketing Technologist.