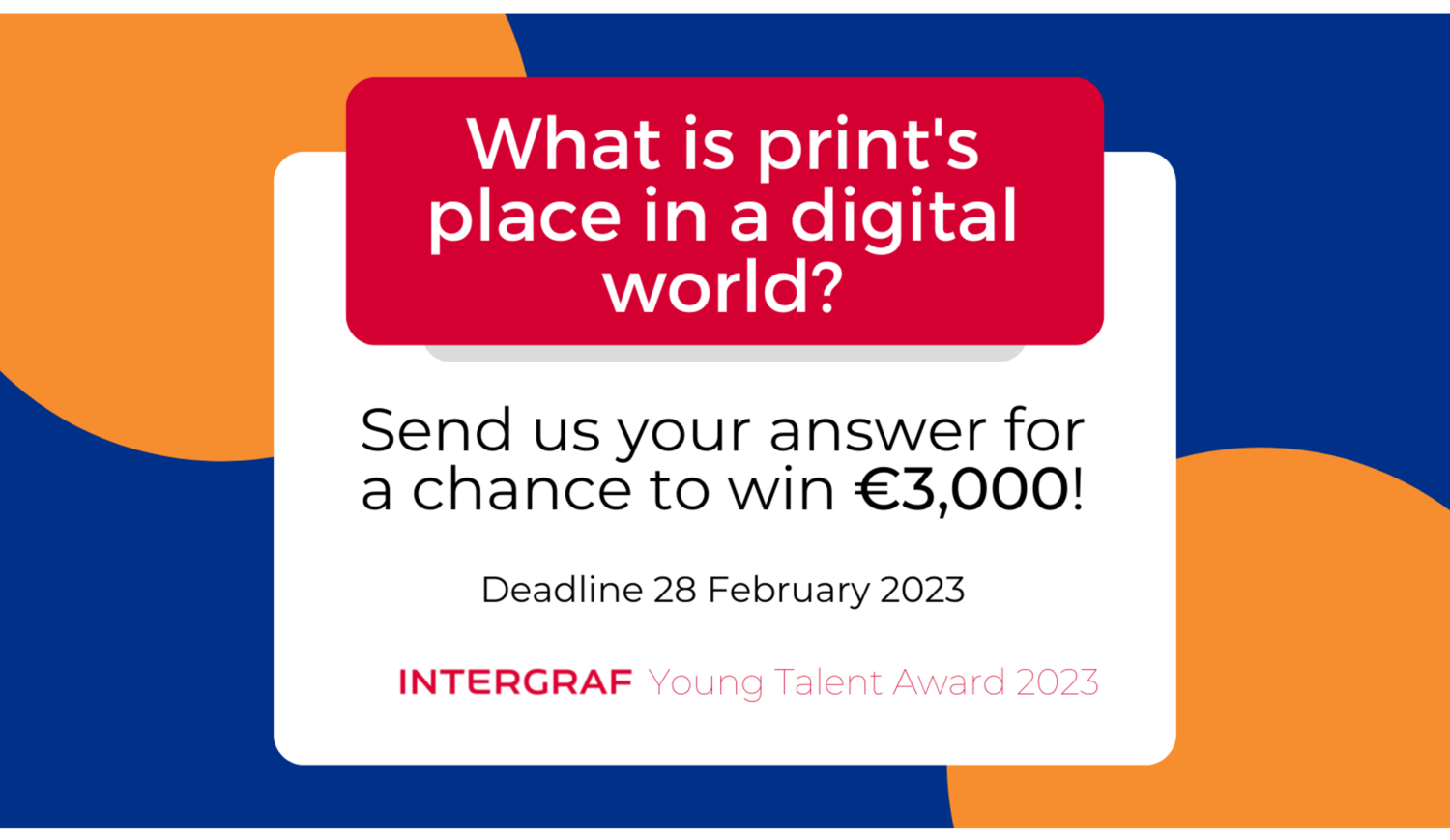 WHAT IS PRINT'S PLACE IN A DIGITAL WORLD?
WHAT IS PRINT'S PLACE IN A DIGITAL WORLD? APPLICATIONS OPEN FOR INTERGRAF YOUNG TALENT AWARD 2023
Are you a young person working or studying in the European printing industry? Then Intergraf want to hear from you! The Intergraf Young Talent Award offers a chance to present your vision of print to an international audience. The winner will be awarded a cash prize of €3,000.
Since 2017, Intergraf has celebrated the ideas of young people in the European printing industry, providing a platform for the next generation of print professionals to share their views on the future of the sector. Intergraf are now accepting entries for the 2023 Intergraf Young Talent Award! Send them your answer to the question below before the deadline of 28 February 2023.
 Q: What is print's place in a digital world?
Entries will be judged by a panel of experts. The first-place entry will be shared with representatives from printing associations, companies, and suppliers. Although there can only be one winner, the top submissions will be made public on Intergraf's website. You can view some of the past entries to the Intergraf Young Talent Award at www.intergraf.eu/campaigns/young-talent-award.
Last year, Tom Maskill from the UK was awarded first place. He explained his views on the environmental performance of print: "Overall, the print industry is moving in the right direction to become a fully circular operation. I believe we must establish common standards for calculating and reporting on the environmental impact of print. We must also educate our customers and the public on the true impact of print on the environment compared with other communication methods." Tom presented his winning ideas at Intergraf's Print Matters for the Future conference in Stockholm last May.
Application criteria
Entrants must be a young student, apprentice, or worker in print (maximum age 25) from one of Intergraf's member countries.
All entries should be written in English and be 2-5 pages in length. The applicant can supply any other visual support she/he deems necessary to present her/his idea.
Applicants to also include a short CV (maximum 2 pages).
Availability to present your entry at one of Intergraf's events in 2023 is desirable, but not essential to win the award.
Entries to be sent to Beatrice Klose, Secretary General of Intergraf, by email (

[email protected]

) before the submission deadline of 28 February 2023.